You are currently on the:
CMHA National
Visit our provincial websites
My Sisters' Place is a safe, welcoming and inclusive centre that supports individuals who identify as women through drop-in and wrap-around services. Many experience multiple vulnerabilities including gender-based violence, trauma, chronic mental and physical health challenges, homelessness or housing instability, substance use, and extreme poverty.
Developed with input from women of lived experience, My Sisters' Place offers a comprehensive multi-disciplinary support system with the capacity to deliver practical needs, specialized services and education/skills development under one roof. At the core of My Sisters' Place is a commitment to promoting a welcoming and non-judgmental culture, a reprieve from the stigma women so often feel in other community settings.
Within our mother agency CMHA Thames Valley Addiction and Mental Health Services, we connect women with mental health services, case management, clinical services, and community programs. We also work closely with community partners to connect women with other supports in the community.
Service Hours
Monday to Friday:
10:30am – 12:30pm (lunch is served 11:30am – 12:30pm)
1:30pm – 4:00pm
5:00pm – 6:30pm
7:00pm – 9:00pm
Weekends and Holidays:
11:00am – 1:00pm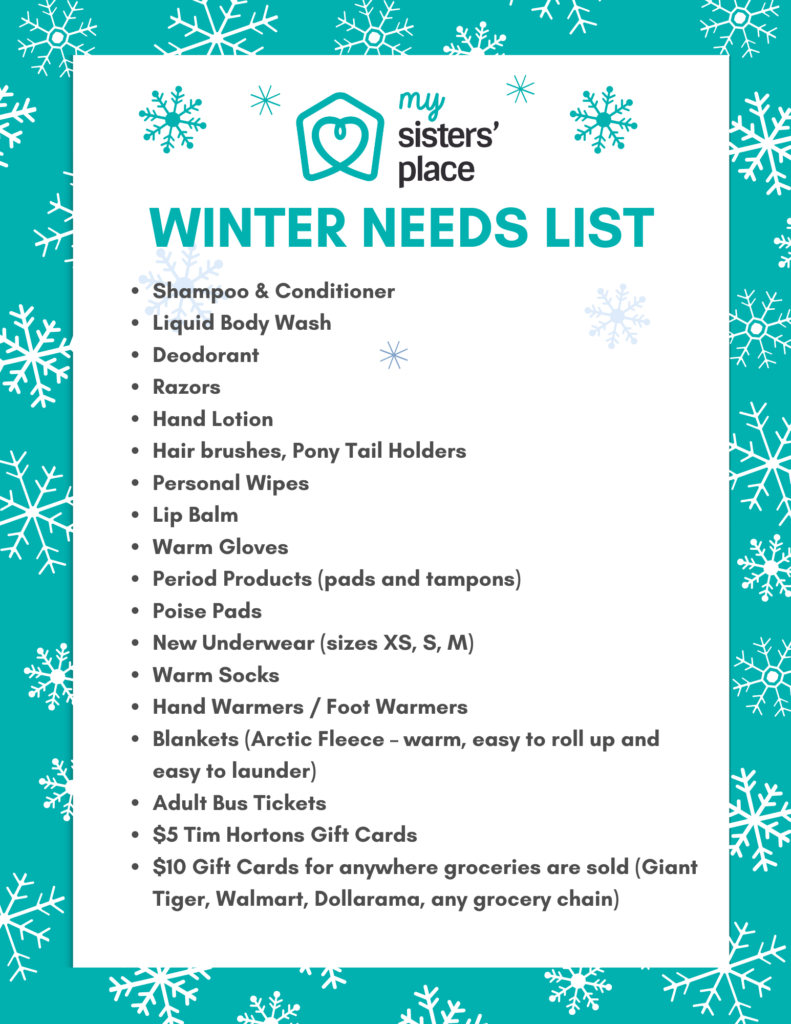 Donation Drop-off:
We are able to accept donations on weekdays from 10:00am – 8:00pm and on weekends from 10:30am – 1:30pm at the rear gate of My Sisters' Place, 566 Dundas Street. Please call our welcome desk when you arrive: 519-679-9570 x 5000.
Take Action
Make a donation
Tel: 519-679-9570 ext. 5510
Toll Free: 1-877-859-0352
Fax: 1-866-210-1917
Mail a cheque to: My Sisters' Place, 566 Dundas St., London, Ontario N6B 1W8
Volunteer
If you are interested in volunteering, connect with the Volunteer program
Connect with My Sisters' Place:
Contact Us
My Sisters' Place
566 Dundas Street
London, ON N6B 1W8
Phone: 519-679-9570 x 5000
To donate a meal or make an inquiry: mysistersplace@cmhatv.ca
Office Hours: Monday to Friday, 8:30 am – 4:30 pm
THANK YOU to everyone who generously donates to My Sisters' Place. We truly couldn't do the work without your support!
---