You are currently on the:
CMHA National
Visit our provincial websites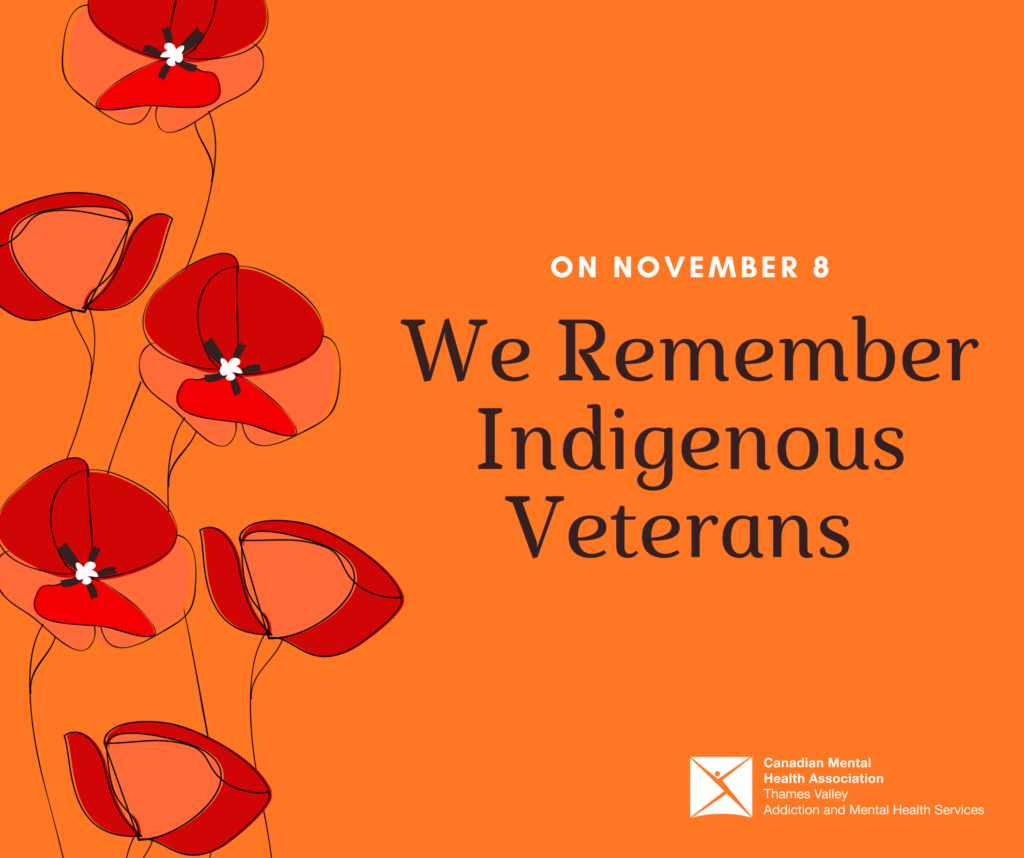 CMHA TVAMHS Honours Indigenous Veterans
Nov 7, 2023
On November 8, CMHA Thames Valley Addiction & Mental Health Services honours Indigenous Veterans Day. The participation of courageous First Nations, Inuit, and Métis in many campaigns, conflicts, and wars have been vital to contributions of the Canadian Forces.
Indigenous Veterans Day was established in 1995 to recognize the often-overlooked contributions of Indigenous veterans, who were initially excluded from main Remembrance Day ceremonies. Only after Canadians laid their wreaths, were Indigenous Veterans permitted to do so.
During their service to Canada, Indigenous veterans faced many unique challenges including the loss of their Indigenous status. Despite their sacrifices and vital contributions, many Indigenous military members and veterans were not granted the same rights and recognition they deserved.
One remarkable contribution of Indigenous veterans was their role as Code Talkers during both World Wars. Without their crucial code-talking abilities, the Allies might not have won these global conflicts.
Indigenous women also played a vital role in supporting the troops. They would send white corn with maple syrup to the soldiers, providing them with much-needed energy and sustenance. The Canadian authorities even requested that Indigenous women send more of these supplies to bolster the troops.
Today, we honour the courage and great sacrifice of Indigenous Veterans. There are many ways to honour this day including wearing a beaded poppy, which serve as a poignant and meaningful tribute to Indigenous veterans. These intricate, handcrafted poppies are a symbol of remembrance that not only pay homage to the sacrifice and service of Indigenous veterans, but also represent the rich cultural traditions of Indigenous communities. Beaded poppies remind us of the enduring spirit of Indigenous peoples and the importance of recognizing their vital contributions to Canada's defense. In wearing and displaying these beaded poppies, we not only express our gratitude but also celebrate the vibrant heritage and indomitable spirit of Indigenous veterans.
The history of Indigenous veterans in Canada is a testament to their resilience, bravery, and invaluable contributions to Canada's defense and heritage. These stories should be celebrated and remembered on National Indigenous Veterans Day.
For more information about Indigenous Veterans Day, visit Indigenous Veterans – Veterans Affairs Canada