648 Huron Entrance Undergoing Repairs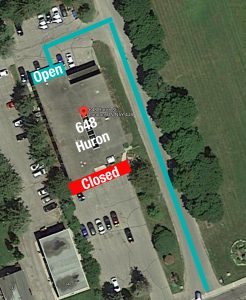 The Mental Health & Addictions Crisis Centre located at 648 Huron St. is undergoing repairs in the entrance vestibule November 8th-10th, 2022.
Starting at 7am November 8th, the vestibule will be closed. Those wishing to enter the building will do so by the rear entrance, located on the North side of the building.
This entrance is accessible by using the laneway to the east of the 648 Huron St. front parking lot. It is also accessible by foot.
Those in need of parking at 648 Huron should park at the back of the building. There is a parking lot against the north side of the building.
The front entrance repair also impacts elevator access to the second floor of 648 Huron St. Crisis Stabilization and Clinical services have been adjusted accordingly. If you are in need of Crisis Supports and utilizing stairs presents a barrier to accessing services, please contact Reach Out at 1-866-433-2023. Alternate support options will be made available, including mobile crisis response team deployment.
If you are accessing services at 648 Huron St. during this time, please watch for signage and follow directions provided.
The vestibule repair is expected to be completed November 10th, with the front entrance re-opening 8am November 11th.
If you are having difficulty accessing 648 Huron or have any questions regarding this change, please contact us at 519-434-9191.
We thank you for your patience and understanding at this time.